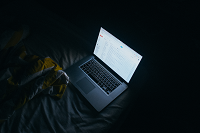 The short answer to above question is no, however, that is a simple answer to a simple question, email security is a far more complex matter. Out of the box email solutions should not be regarded as secure and should not be used to send sensitive or personal data. The large email providers such as Google's Gmail and Microsoft's Outlook.com do offer a certain degree of security but they fall far short of a secure email service that allows it's users to send email securely to anyone. Wherever possible and certainly between users of the same service i.e. Gmail to Gmail, the messages are encrypted and can't be read by anyone except those the email is addressed to. When an email is sent to mailbox hosted by another provider is when the encryption cannot be enforced and messages become readable by anyone with the means to look. 
It is a little like the difference between sending a letter in a sealed envelope that can only be read if the envelope is opened and sending a postcard with the message clearly displayed. For sensitive or personal information you certainly wouldn't send it on a postcard, but that is essentially what is happening when you send an email without taking the proper precautions.
Unfortunately scams involving email communications are increasing at a dramatic rate and are taking advantage of the fact that whilst using a standard form of email service there is no way to verify the sender of any emails you are receiving. This article from the Guardian makes interesting reading "Email scam costs couple £25,000 – but no one will help". This is not an isolated incident, recently solicitors and licensed conveyancers have been targeted along with their clients, some successfully, to make the same sort of attack, a last minute bank account change to steal money. This is an example from early 2016, "Newlyweds lose £45k deposit for three-bedroom home in cruel scam"
This sort of outcome is avoidable and professionals who deal with their clients' personal and sensitive information and communicate by email can take simple and inexpensive measures to ensure that their communications can be secured and their identities can be verified.
For more information on how to setup your email communications securely contact Nick Wright by email at This email address is being protected from spambots. You need JavaScript enabled to view it., or go to the contact form and send a message, or call on 01772 915045.
You have declined cookies. This decision can be reversed.
You have allowed cookies to be placed on your computer. This decision can be reversed.