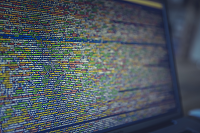 OMiT Computing is an IT consultancy based in the North West of England, that is focused on protecting your data, securing your communications and introducing enabling technologies to enhance your business.
Personal and business data is an increasingly valuable commodity and is increasingly at risk. Organisations and businesses that can demonstrate that they are able to safeguard their customer's and their own data, being able to remain operationally effective should disaster strike, will have a distinct advantage over their competitors in an increasingly digital world.
OMiT Computing can help you to create systems and solutions to safeguard your personal data, your business data and your customers data, demonstrating your competitive advantage and giving assurance that if disaster strikes, you are ready.
The main areas that OMiT Computing focuses on are:
Strategic IT Planning
Encrypted Backups
Offsite Backups
Cloud Backups
Secure Remote Access
Secure Email
Endpoint Security
Not everyone is the same and we don't have "out of the box" solutions that we try make everyone fit into, OMiT Computing is a consultancy, which means that a solution is designed for each client individually to solve their unique issues. Solutions can be created to suit all situations and budgets, from a simple, regular, backup solution for a single computer, to a complex, policy based, remote access authentication and resource allocation solution.
To get in touch you can email Nick Wright at This email address is being protected from spambots. You need JavaScript enabled to view it., go to the contact page and submit a question or call on 01772 915045.
You have declined cookies. This decision can be reversed.
You have allowed cookies to be placed on your computer. This decision can be reversed.