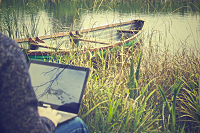 "Work is a thing you do, not a place you go" is an increasingly quoted phrase these days, especially in articles and news about the change in flexible working rules in the UK that happened in June 2014, but what can we do to make it mean something?
Remote access is not a single solution or a single technology but a set of appropriate tools that can be tailored to individual needs to allow someone or a team of people to work wherever they are and whenever they are available. Remote access technologies are used to achieve the goal of enabling flexible working, allowing access to organisational and personal resources from any location (well almost any location), at any time. This enables your teams and individuals to contribute without having to be in the office and forms part of a strategic view for any organisation that has a need to work flexibly, which with current legislation is potentially every UK employer.
Research conducted and published by BT and linked here, demonstrates the benefits of flexible working very convincingly and stresses the point that any ventures into flexible working must be strategy led not technology led, the technology is there to support organisational objectives, not drive them. This can make choosing the right technology to support your remote access/flexible working initiatives overwhelming.  You may need to simply share documents securely but this then raises several questions. How can this be secured? What devices can I use? How do I ensure that I comply with data protection legislation? How do I allow access and to whom?
OMiT Computing can lead you through the technology aspects of a flexible working initiative that allows your staff to work anywhere, driven by your needs we can suggest appropriate technologies that enable outcomes such as:
Greater Productivity
Cost Savings
Greater Employee Retention and Satisfaction
Enhanced Corporate Social Responsibility
To discuss what you can achieve with flexible working and remote access technologies email Nick Wright at This email address is being protected from spambots. You need JavaScript enabled to view it., go to the contact page and send a message or call on 01772 915045.
You have declined cookies. This decision can be reversed.
You have allowed cookies to be placed on your computer. This decision can be reversed.