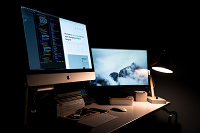 Cloud computing usage has increased dramatically over the last few years and, at least for the forseeable future, is here to stay. Many businesses and organisations have benefited from cloud services, whether it be the adoption of a single application such as Slack, or full scale deployment of test and production systems. What cloud services mean to the storage and especially backup services is that cloud gives us a new offsite. Traditionally offsite backups meant carrying your tapes in a locked box to another building or even a completely different site, which meant driving or posting them there, so that if disaster struck and your original data and backups were destroyed, your offsite copy could be safely retrieved. Cloud storage, combined with a broadband internet connection gives us more offsite choices. Instead of backing up to a removable medium, such as a tape, portable hard drive or USB drive, you can make an offsite copy to cloud based storage across your internet connection. The benefits of this can be seen below:
Time saved, no need to carry anything anywhere, once setup no more carrying removeable media from place to place.
Costs saved, no need to pay to manage your own offsite storage copy and location.
Security is increased, your cloud backups will be encrypted both in transit and on your cloud storage, nothing can be "lost in transit" or stolen anymore.
It's automated, once setup, unless changes to the backup job are required, i.e. to add a new folder or set of files, no intervention is required. The backup job will run on a schedule, automatically, and send confirmation when complete.
It's got built in redundancy, OMiT only use large, established cloud providers, such as Amazon Web Services, Google and Microsoft. Subject to the legal requirements of storing your data, your backups can be stored in multiple locations around the world, reducing your risks.
You can still keep a local backup, for ease and speed of restore, your cloud backup is there as a copy, in case all else fails.
Cloud storage and backups are bringing huge benefits and risk reduction to many businesses and organisations, to find out how it can benefit you email Nick Wright at This email address is being protected from spambots. You need JavaScript enabled to view it. , go to the contact page and submit a question or call on 01772 915045.
You have declined cookies. This decision can be reversed.
You have allowed cookies to be placed on your computer. This decision can be reversed.