Strategic IT Planning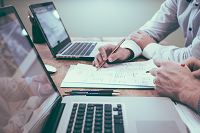 For most businesses and organisations today, IT is an integral part of the business, most would find it difficult to operate without an investment in IT of some sort. The problem with IT services is that they change at an alarming rate and every organisation reaches a point where change is inevitable for a variety of reasons, such as growth, a changing market, a need to cut costs, legal changes or a need to gain a competitive edge. 
When planning for change technology can play a major part in enabling such change and must be given due consideration. Technology and technological solutions should be there to support, not drive the change and the needs, aims and strategies of the organisation need to take precedence with technology assisting to enable the desired outcomes. 
The vast array of technology solutions available today can be overwhelming and often technology vendors sell their products as the solution to everything, this is often not the case. Technology will often not solve your problems but will form only part of your solution.
To help you see clearly and take an objective view of the technology available and how it can help you, OMiT Computing can consult with you to form a strategic IT plan that aligns to your organisation's business strategy, enables your strategic goals and fits with your overall strategic plan.
To find out how OMiT Computing can help you realise your vision with the help of technology contact Nick Wright by email at This email address is being protected from spambots. You need JavaScript enabled to view it., or go to our contact form and send a message, or call on 01772 915045.
You have declined cookies. This decision can be reversed.
You have allowed cookies to be placed on your computer. This decision can be reversed.